I am Thankful for being in the company of such awesome and talented women. Thank you Jess for asking me to participate in this hop. Your Hops are always a blast.
You should have arrived here from Martha -
http://dreamofcrafting.blogspot.com/
if not, you need to start at the beginning with
Jessica -
http://www.kinderstampo.com/
.
So, I love the fall and especially Turkey Day. We will be having my family and my DH's family over this year to celebrate Thanksgiving and to spend some quality time together. For my Fall project I decided to make invites to send out to our families. I really, really, had fun making these. They took me all day, but OMG they it was so worth it.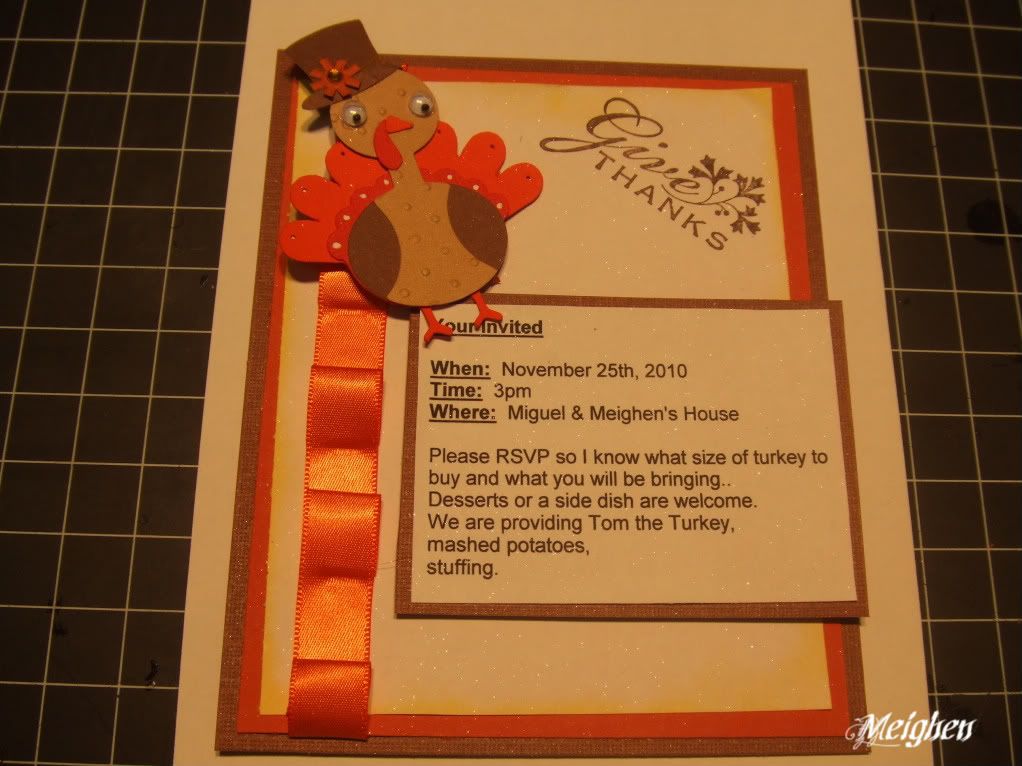 Here You can see the work I put into this with the ribbon folding and the little details. Isn't this just super cute.
In these two pictures you can see the layers of the turkey (top picture) on pg 70 from the Create a Critter Cartridge and the layers I used for the invite on the bottom picture with the dimensions. Each layer is a quarter inch smaller than the last. This invite will fit into a 4 X 6 envelope. The turkey also had google eyes added for some fun. The Swiss dots Cuttle Bug folder was used on the light brown layer of the turkey. A paper piercer tool was used on the orange feather layer and a white gel pen was used on the red feather layer. A Mini Me Prima flower and bling was added to the hat after I used a gold paint pen to draw a line on the hat.
This next picture is showing the other things I used for this project. I inked up the edges of the white piece of paper with YOYO Yellow by Stampin UP and the sentiment is stamped in Chocolate Chip. The stamp set is All Holiday Sayings by Stampin UP. The ribbon is Orange Zest by Paper Trey Ink and is placed on the paper in a folded fashion. To see that technique click
HERE
.
For the Invite part of the project, I typed it out on the computer as my handwriting isn't very pretty. Nothing wrong with cheating when it comes to writing. lol. I then cut it down as small as I could and added a brown mat behind it. The Turkey and the invite part were had foam pop dots placed on them and stuck onto the invite.
After all was said and done a shimmer paint was used to spritz onto the entire project to give it some sparkle.
Here you can see the inked edges and the shimmer on the invite.
I really hope you enjoyed my fall project.
Your next stop is Nicole ( My Favorite Canadian Nickel)-
http://canadiannickelscrapn.blogspot.com/
GIVEAWAY
After going through my stash, I found some stuff to giveaway. Follow me if you would like. I alway love new friends. Leave one comment only under this post and a way to get a hold of you. If you comment more than once you will not be counted and if there is no way to get in contact with you, I will choose another winner. You have 3 days to contact me after I contact you to claim your goodies.
IF YOU GET LOST, HERE IS THE LIST
HUGS,