For KinderStampos Its a small world Blog Hop Click HERE
For the Cream City Ribbon Blog HOP Hosted by Nikki, Click HERE
Thanks for stopping by for this fun Blog Hop and a special thank you to Jamie over at
Glitter, Stamps, and Paper OH MY
for hosting this hop. I am so glad you asked me to participate as I love to make Christmas cards. Christmas is my favorite time of year. :)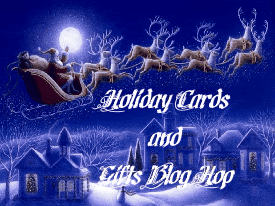 If you are here from Kristin's at Lil Sweetpea's Place
http://lilsweetpeasplace.blogspot.com/
, then you are in the right spot. If not then you need to start at the beginning over at Jamie's at Glitter, Stamps, and Paper, Oh My
http://www.glitterstampsandpaperohmy.com .
For this hop I chose to make a Christmas/Winter card using the new Cricut Cartridge that I just got called HOLIDAY CAKES.
Here is a list of other things you will need :
- winter paper - card base ( A-2 size) - Holiday cakes cartridge - Tags Bags Boxes and More Cartridge
- ATG Gun - Quick Dry Adhesive (glue) - Glitter - Bling - Cuttle bug with Swirl folder
-different colors of paper for your trees and the layers -white paper to cut out your snow - scissors
- white gel pen - twine - corner rounder punch - pop dots
This picture shows you the full detail on the card. I hand cut the snow to the length of 4x5 1/4, and added glitter for the extra sparkle.
Here you can see how I used the cuttle bug folder, and the bling on the 2 trees. These trees were cut at 3 and 3 1/2 inches (pg 77 Holiday Cakes).
The tag (pg 111 Tags, Bags, Boxes and more) is cut at 3 inches and the white gel pen was used to give it that stitched look.
A piece of twine was tied into a bow and put onto the tag.
On the left you can see how pop dots were used on the hand cut snow.
I hope you all have had a fun time hopping through and have found some fabulous inspiration for this Christmas/ Winter season.
Here blow is the same card with a few differences , but without rounded corners.
GIVEAWAY
LEAVE ONE COMMENT PER PERSON. I would love it if you became a follower, but you don't have to. I will be drawing a name using Random.org on Tuesday. You will have 3 days to get beck to me after I contact the winner. After that I will have to pick someone else.
Handmade bookmark, paper and embellishments.
YOUR NEXT STOP IS Ellen at Card Monkey
http://cardmonkey-business.blogspot.com/
HUGS & Holiday Wishes,

Here is a list of the other blog on this hop in case you get lost.
-Jamie at Glitter, Stamps, and Paper, Oh My
http://www.glitterstampsandpaperohmy.com
-Jessica at Overjoyed Scrapper
http://overjoyedscrapper.blogspot.com
-Jill at The Scrapaholic
http://thescrapoholic.blogspot.com
-Stacey at Stacey's Creative Corner
http://staceyscreativecorner.blogspot.com
-Mandy at the Polka Dot Spot
http://stamping4u.blogspot.com
-Nikki at The Glamorous Side of Scrapping
http://www.theglamoroussideofscrapping.blogspot.com
-Crazy about Cricut at
http://www.crazyaboutcricut.blogspot.com/
-Nicolette at Beyond Scrapin
www.beyondscrapin.blogspot.com
-Liz at Skittles and Scrapbooks
http://skittles-and-scrapbooks.blogspot.com/
-KarelJ at One by One the Flamingos are Stealing my Sanity
http://karelj.blogspot.com
-Sandra at Sandy's Scrapbooks
http://sandysscrapbooks.blogspot.com/
-Kristin at Lil Sweetpea's Place
http://lilsweetpeasplace.blogspot.com/
-Meighen at Scrappin_3rdeeschik
http://scrappin3rdeeschik.blogspot.com/
-Ellen at Card Monkey
http://cardmonkey-business.blogspot.com/
-Jennifer at Crafty Card Gallery
www.craftycardgallery.blogspot.com
-Denise at Dee's Designs from my heart
http://deesdesignsfrommyheart.blogspot.com
-Jesi at Jesi's Things
http://jesisonaroll.blogspot.com/
-Dorly at Moderna Art & Designs
http://modernadesignsart.blogspot.com/